We create artisan pieces that are timeless, functional and unique. Handmade in the USA.
She's a girl on the go and has her own sense of style. She likes to stand out in an understated way. She's one of a kind, spontaneous, daring and a risk taker.
Paper City Magazine
The epitome of western chic, Madison McKinley Isner designs jewelry with a serious cowgirl edge. Dallas born and raised, her pieces are handmade in Texas and at her family ranch in Wyoming.
D Magazine
"In that spirit, all Madison McKinley pieces are made by hand in Wyoming and Texas, including a collection of gold-plated cuffs and chokers hand-forged in the ranch's workshop alongside the horseshoes. Isner designs with strong-willed women in mind."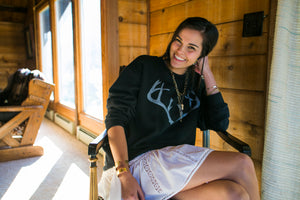 SMU STYLE
"Madison fabulously blends vintage and contemporary elements to create 'one of a kind rustic-meets-city' pieces. So really, no one has an excuse to not own one of Madison's designs because they can fit just about anyone's style."